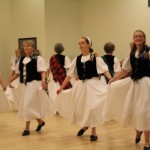 The Demonstration Team of the Vancouver Island Scottish Country Dance Society performs choreographed routines designed to best share our Scottish heritage with our audiences.   The group dances reels, jigs and slow graceful strathspeys as well as ladies step dancing.   The group performs for Robbie Burns celebrations, the Highland Games, Cultural Dance Festivals and many other community functions.    We often add live music to our performances.
The group participated for several years in performances for the annual Victoria Music Festival and in 1994 performed for the Opening Ceremonies of the Commonwealth Games.  The Demonstration Team and has provided encouragement and highly entertaining, high-calibre dances and instruction to participating dancers and VISCDS members. This ambassadorial function has provided entertainment and quality dancing for many occasions and events both within the Society and for the greater Victoria community. In 1981 the VISCDS Demonstration Team and the RSCDS (Victoria Branch) demonstration team jointly had the honour to be invited to dance at the Empress Hotel for the Premiers' Conference held in August that year in Victoria.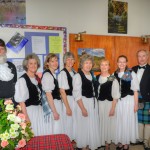 Our performances look to attract new members, share the music and dance of Scotland and to entertain.   If you are interested in engaging the dancers for a performance, please contact Joan Axford at 250-474-1018.