Classes begin September 13
---
Dancing at Henderson Park- cancelled until further notice
Didn't make it to Henderson? check out the fall dancing videos taken by Ray Fischer at the following links:
Are you ready to begin dancing again? Read on!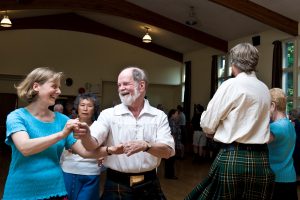 DANCING WITH VISCDS: REQUIREMENTS
September, 2021
VACCINATIONS:  Dancers participating in Scottish Country dancing will be required to show proof of Covid 19 Vaccination as required by the BC Provincial Public Health Order.  Proof of the first vaccine will be required by September 13 and of the second by October 24. 
Members will be required to sign a waiver on the membership form pertaining to accident, injury or illness related to participation in activities of the Society. 
MASKS:  Dancers will be required to wear masks while dancing and while entering and leaving the dance venue.  This requirement will be adjusted as circumstances in the Covid-19 health precautions change.   
A Safety Plan regarding Covid-19 will be observed.
Dancers are asked to please register the first night of the class in which they plan to attend or complete the registration form at this link 
For a list of classes, click here
---
Newcomers Welcome
Interested in Scottish Country dancing?  The Van Isle dancers are a lively group of over 110 dancers who love to introduce newcomers to  the joys of Scottish Country Dancing. We usually run five classes a week ranging from the basic to advanced levels (beginner classes are Tuesday evenings). It's a great way to keep fit and to meet new people in a very social setting. Couples and individuals are all welcome. No partner required. Dress casually and wear soft soled shoes.
---
Contact us at 250-477-8317 or viscdspresident@shaw.ca
or see our latest Island Fling for Executive member info.
Tribute to Dora Dempster, Past President VISCDS
.
.