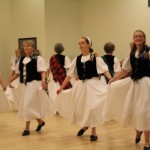 The VISCDS Demonstration Team performs choreographed routines designed to share our Scottish Country Dance technique and heritage with our audiences.  These routines include slow, graceful strathspeys, fast reels and jigs, as well as ladies' step-dancing.  We perform each year at Robert Burns Day celebrations, the Victoria Highland Games, the Victoria Folk Festival, Greek Fest, and several other multicultural dance festivals and community events within the greater Victoria area.
Our Demonstration Team also competes with other local dance groups in the Greater Victoria Performing Arts Festival, in which our performances have been recognized with an award each year.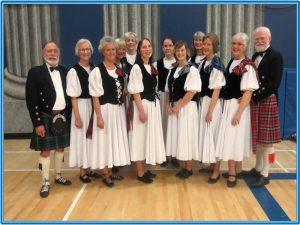 In the past, the Demonstration Team participated in the Opening Ceremonies of the 1994 Commonwealth Games, and in 1981 the Demonstration Team and the RSCDS Victoria Branch demonstration team jointly had the honour to be invited to perform at the Empress Hotel for the Premiers' Conference held that year in Victoria.
Our team also brings our heritage to many senior residences in Victoria.  Our mission is to celebrate Scotland's music and dance heritage, to entertain the public, and also to attract new members.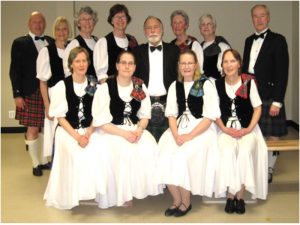 If you are interested in booking our Demonstration Team for a performance, please contact Joan Axford at 250-474-1018 or joanaaxford@gmail.com